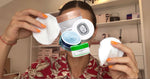 Make-up off: micellar vs balm
Remember the times when make up artists from over the pond would load up their suitcases with micellar water when on a trip to Europe? Now it is a staple in every bathroom.
Whether you use heavy artillery while 'baking' or a swoosh of 'I've got everything together' red (
rossoh
does just that), micellar water is most likely your first go-to after a long day. Recently, however, we've seen some true beauty devotees report on cleansing balm and we had to be all in for it to try.
Cleansing balms tend to be an upgraded version of 'that one time you ran out of everything and so used a scoop of coconut oil instead' sort of thing. It is a greasy but nourishing, oily smoosh, that can easily remove eyeliner, mascara and anything that has a tint to it without the panda eye effect. It does not require as much water (you can just slap it on, and wash the residue along with make up and dirt right after), and it is a better option for dry, flaky skin (especially in change of seasons). The components vary from brand to brand, from jojoba seed to almond oil, but before hitting the cart icon, we suggest you research the ingredient list for any nasty chemicals (like the parabens and sodium lauryl sulfate, latest mostly used in soapy wash).
The Icons
Our personal favourite is
Slaai Makeup Melting Butter Cleanser
from Drunk Elephant. It is decently priced, the brand is cruelty free and boasts about ruling out the 'suspicious 6' out of their range, whatever that means (Essential Oils, Drying Alcohols, Silicones, Chemical Sunscreens, Fragrances/Dyes, SLS).
On another pricing spectrum is
Charlotte Tilbury's Multi Miracle Glow Cleansing Balm
, formulated with organic sea buckthorn seed oil, sunflower seed oil, cranberry oil, and the list goes on along with Vitamins A, C and E. If you can justify the splurge for a cleanser slash facial mask, then go for it.
The Newbies
Who knew that Diptyque will branch out and take up space not only with hip candles. If you trust the brand to do well, their
Nourishing Cleansing Balm
promises to cleanse with 'regenerating properties'. Containing sweet almond oil, ylang-ylang, mimosa and geranium.
Sunday Riley followed up their best selling oils with the
Blue Moon Tranquility Cleansing Balm
, which according to the brand can help to calm and contain even the problematic skin conditions. It is paraben and sulphate free, so that is a bonus, and is formulated with the german chamomile and natural beeswax.
What's your go-to for removing make-up after a long day?

By Maria (Masha) Mitrofanova. Please be aware that the article is not permitted to publishing without the consent of the author.