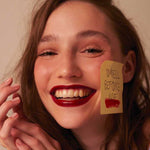 A Beauty Product According To Your Favourite 90s Muse (And Every Nose Out There)
We love the 90s goddess-like-drop-dead-gorgeous-zero-filter women, whom to this day dominate all of your moody IG posts (somehow). They were fierce, different and had a personality to show for it. With that said, knowing that you love them just as much as we do, we have assembled products according to your dearest lady muse. Special perk? All the products have the yummiest smells, for every nose out there. 

KATE
Kate Moss is no girl next door. She is a perfect mix of bubbly and a little bit out there Penny Lane and a thrift store honey Jane Lane (from Daria cartoon, duh). If you feel like the 90s Kate is your definite spirit animal, you might just be into Summer Fridays Overtime Mask. It is a clarifying magic wand when a little partying got out of hand and straight to your skin. Not to mention that a team of vitamin-packed pumpkin and exfoliating apricot smells delicious.
YASMEEN
Yasmeen Ghauri was one of the initial models that helped to shift the fashion industry's obsession with Nordic looking fairies into a wider concept of beauty on the runway as well as in editorials. Although Yasmeen did not kick that inclusivity door wide open all on her own, she surely helped. A fearless yet mysterious beauty, if without a doubt you can relate, we suggest you channel Yasmeen.   
with the boost of Mok'Amour lipstick's rich, intense color. We do not really need to point out that the luscious flavour of espresso will hit the right note for ladies like this muse.
VERONICA
Veronica Webb was the first black supermodel to land an exclusive contract for a major cosmetics company. Known for her passionate involvement in several charitable organisations. If you can identify yourself with this beauty, we encourage you to opt for a brand with a cause. To achieve Veronica's glow try Rahua's hydrating and restorative body oil, which is lightly scented with rainforest botanicals. Plus the brand is noted for working alongside the Indigenous People of the Amazon to gather rainforest grown ingredients only from self-sustained forests.
KAREN
A Dutch Venus, Karen Mulder, graced Vogue covers and has landed major campaigns of the decade, from Guess to Victoria's Secret (r.i.p.). If you are sensing some serious bombshell vibes from within and would like to sweeten your natural allure, settle for the Korean skincare line called Skin Food. Coconut Sugar Mask Wash Off smells so good, we suggest you don't use it on an empty stomach.
by Masha Nova