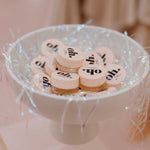 How do you spell G L A S S Y?
Why, [ B - E - L - L - O ] of course!  
At least that is how all of the press and special guests at our recent Glassy event reacted when they first have encountered this new baby in town. We were pleased to share this delicious newbie with all of Espressoh friends, supporters and recent fans, at the Lizard Concept store this past Monday in Milan.
Glassy took a good year of development, so you could have the luminous, glossy but fresh blush (that is also COMPLETELY TRANSPARENT IN THE JAR). Using the most evolved pH technology, we are glad to bring this tint straight to your cheekbones.  
One shade 'flushes' all, making the struggle of getting the right shade just right out of your swirling mind. You can also layer this product until you achieve the desired result.
Our special make up artist Marika tinted all of the guests one by one; watch some of Espressoh girls getting a glistening look in the video below.
Tip: warm Glassy between your fingers before applying to your cheekbones (or lips… but more on that trick later).