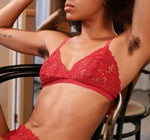 Best Deodorants For You This Summer
Discussions on body positivity have brought us wider acceptance of body hair (on ladies that is, gentlemen were saved from hair removal pain in a patriarchal shell), stomach rolls (nothing feels as good as pizza tastes) and sweat. What a relieve to know that sweating is not only healthy but also nothing to be ashamed of. In fact, sweat is sexy. Think Flashdance or Kanye's Fade. Read on to learn more about the benefits of sweat, preventative measures and our picks for best natural deodorants.
Every sweat is different
Sweating throughout the day (and on different occasions) can mean a variety of things. Generally sweat rate increases to cool off the body (by dissipating the excess heat through evaporation). Getting a little damp during sunnier months is absolutely normal.
If you make an active lifestyle and work out (or moderate exercise) a part of your daily routine, the body will adjust (meaning sweating less when under pressure, but sweating more into your cardio). If you notice that your sweat streaks are white during an activity, you are most likely low on sodium.     
If you are trying to combat inflammation or looking after your liver health, your body is smart enough to get rid of any excessive waist (toxins) through your sweat glands. No wonder that infrared sauna is so big in wellness industry. With sweat you are also loosing a bit of potassium and salt so it is important to hydrate throughout any sauna you are enjoying.
Sweat is amazing because it can indicate your over all well being. Have you ever noticed that sweat at the gym is different from the one in the office? High pressure events can make you drizzle and it will odour differently. The stress waters usually come straight from armpits (apocrine glands), it is mixed with fat, protein and skin bacteria.
That's cool, but I still want to take measures.
 Eccrine sweat glands are concentrated in the face, hands and feet and are absolutely harmless as they produce 'water salt' (can be prevented with proper clothing and body hygiene). Apocrine sweat glands produce less sweat, but they are usually the ones we are combating (located where hair follicles are - armpits and crotch area). If you feel that your sweating is overwhelming, it is crucial to see a doctor and communicate your worries clearly.
Some beauty clinics perform procedures like Iontophoresis to treat excessive sweating on hands and feet. The wanted ares are submerged into water while mild electric current is passed through, which is painless, but a tingling sensation may occur. Often 5-10 sessions are recommended to achieve results. Side effects may include dry skin.
Botulinum toxin (Botox) injections are also popular for underarms (especially before red carpet events). The treatment is known to be effective but lasts about 6-10 months. Multiple injections are required and be ready to discover that sweat will find its way through funkier places if it cannot find an exit via an armpit. 
There are always deodorants and antiperspirants of course; first protect against odour only, while second try to keep sweat at bay. General rule of thumb: go for aluminium free formulas and comfortable packaging.
 Summer frenzy
Slowly transitioning into aluminium free formulas can be a bit devastating as many natural deodorants simply do not work. Summer is great to experiment because let's face it, every one is having a stinky pit. There are plenty of DIY armpit masks you can try (youtube it) for starters, but if you are not into the hustle, we have recently discovered Megababe's Underarm Mask. It will draw impurities and exfoliate, leaving the skin much softer and ready to transition. 
Another product on our radar is Kinko's Balancing Deodorant, it is as clean as it can get (pregnancy safe) and oil free (will not stain clothes). You can choose between a Sakura Rose fragrance or opt for completely unscented. This one is promising, especially if you are prone to rash or break outs.
Farmacy's Freshen Up has caught up with us, due to its potential to even out the skin tone. Skin discolouration can be an issue for some, and if you are not comfortable with the looks of it, maybe give this one a go. Tea tree oil helps to neutralise odour, papaya extracts exfoliates, while peppermint gives a cooling sensation.
For women of colour some deodorants may leave unwanted white residue. African Black Soap 24-Hour Deodorant can be an option and it is formulated without irritation suspects like baking soda (and again, it is aluminium free). Ingredients include organic shea butter and aloe vera. 
For sporty babes there is an interesting line by Native, where the choices are endless: custom scent, a seasonal selection, and variable packaging (adjusted to your needs like travel, summer pack, build your own etc.). Vegan ingredients and a small selection of products in paperboard sounds alluring.  
Have you found a natural deodorant that works miracles ? Spill.
By Masha Nova