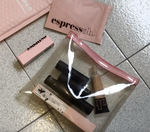 FOUR DAYS IN LONDON. FOUR DIFFERENT MAKE UP LOOKS WITH ESPRESSOH PRODUCTS ALONE
We like to keep our make up bags light, especially during the holiday season when every spot in our suitcases is taken by gifts, this year's emotional baggage and Italian beverages (we take our coffee ritual seriously and if it comes down to it, we will bring the moka too). Well, and wine.
With that said, our laziness motivates us more so to use our imagination with the little make up products that we own (dominantly Espressoh obviously).
One of our collaborators, a young make up artist Alice Maggioni, has taught us a trick or two when she challenged herself to bring only Espressoh goodies on her holiday trip to London. Scroll down to watch her vlog below or keep reading to get skilled.
Look 1
Alice has used ABC concealer in shade 1, throughout her long weekend . It blends in great and can be layered as a foundation where needed. On her first day, she went for an evening look with a deep, bold lip (Addiction) and used the same lipstick to bring out the colour on her cheeks. She kept her eye subtle with an Intenso mascara and applied In Bed as a light, creamy eyeshadow.
Look 2
If contouring is a crucial step in your make up routine that cannot be skipped, try Mok'Amour in emergency situations (broken kits are sort of a thing) or in case of your own forgetfulness. Blending is key, use ABC concealer as your base or mix it with your day cream for dewiness. To give a little bit dimension to her eyes, Alice has used the same lipstick in the crease of her lids (whisking it slightly with a brush). A new trick we loved: using Intenso mascara as an eyeliner. We of course suggest that you use all of our products accordingly, but again, if emergencies call and there is nothing but charcoal laying around, go for it. Final touch: a little colour on the lips , use Addiction moderately to achieve a tint.
Look 3
Try Lemon'a'Me as a bold blush, bring it over to your nose for a flushed, fresh look. Keep it moderate with the same product on your lips.
New move! Get underneath your eye with Mok'amour if you want to experiment with our products. Of course do not get carried away, and do invest into a proper eyeshadow palette or an eyeliner if you love this style and want to wear it daily. 
Look 4
Try Addiction on your eyelids if you feel like testing what works best for you! Blend it out slightly and you will be surprised of how refreshing your mirror reflection will suddenly appear. If you are feeling bold, deepen the color with Mok'amour. Tint your lips with the same lipstick or go Capriccio!
Have you ever used our lipsticks in a different manner ? Have you got any tricks up your sleeve? Spill.
by Masha Nova