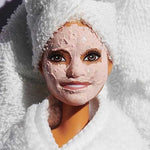 Beauty enthusiasts we're following on IG
If you are sick of all things Instagram (followers-algorithms-more followers-carefully curated stories-SO HOW DID YOU GET THE FOLLOWERS), just hear us out.  
There are only so many accounts one can keep track of (a thousand?), but only a few are worthy of your speedy attention span.
Without further ado, here is a compilation of beauty bloggers we love and cherish (and follow).
THE SERIOUS SQUAD
Do not get fooled by poorly researched posts, scams and sponsored content without being tagged so. These ladies not only know their field but have earnest knowledge to back it up. Michelle Wong or @labmuffinbeautyscience has a PHD in science and scans all the new and the hype accordingly. With a bit of healthy scepticism, she breaks down all the beauty myths you might have fallen for. Anjali, or Dr Anjali Mahto, or just @anjalimahto, the author of The Skincare Bible is a full time consultant dermatologist. She will inform you on anything from marketing fads to what to look into when purchasing a sunscreen. She specifically tackles the issues of acne, so if you are still struggling (aren't we all), hit that follow button.
THE ARTISTS
 Our saved folders boast with wicked eye make-up, glitter eyeshadow on cheeks and one lipstick used in plenty of ways. The problem? The dreamy mood boards are never complete unless you credit the artists. Among our favourites : Marika (or @leitalienne on IG). Her profile is like a crisp editorial with her creative mind unravelling on the faces of others. She frequently posts photos of herself and so we can learn a thing or two for simpler, daily look too. If you are looking into an artful representation of make-up, account @martina__dandrea is pinterest perfect, squared heaven.
YOUR PICKS
We have asked around and you were not at all greedy and shared your hidden, Instagram gems. Naya, or @nayatilly, is a professional beauty reviewer (is that like a thing? Who knew you could be that as a grownup?) and shares a range of beauty and skincare products in her feed. For tips on combination/dry skin and beige vibes check out @hayleysuen. Among other discoveries, @nymatang, originally from South Sudan, a beauty blogger who has challenged and pushed the beauty industry to be more inclusive. Check out her insightful and truthful "The Darkest Shade" reviews.
What beauty influencers have you been following/obsessing over lately? Spill.
By Masha Nova