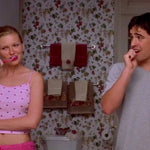 Getting Him On Board With Your Beauty Routine
Here at Espressoh we are firm believers in make-up inclusivity; we just love beauty in all its creativity. We have done some experiments with our guy friends (thank you for keeping up with us) and did hint that ABC concealer can be of help once in a while to our boyfriends (hubbies).  
Of course, skincare is a completely different topic all together, but we have noticed some neutral shifts there too. So, since we had more than enough time on our hands (and some serious beauty insider help), we have developed a routine suited for everyone.
Morning
We suggest starting with a thorough cleanse, and if skincare (or beauty for that matter) is viewed by your male partner (read: boyfriend or husband) as a foreign territory, start simple. Clear Start is a very basic line by Dermalogica, targeted at acne prone skin. Our favourites include the foaming wash and clearing fizz mask (if you are willing to push it).
Other cleansers that boast simple packaging and deliver results are The Ordinary's Squalane Cleanser or anything Aesop (sure to remind him that sharing is caring).
Top it off with a non-toxic SPF (Super Fluid by Kiehl's or budget friendly Neutrogena) and let your guinea pig fly free.
Beyond The Comfort Zone
Here is to the magical companies that believe in regimens and layered formulas. If there is still space on your shelfie (and in your man's open mind), try the Core Series developed by Hylamide (one of the Deciem's companies).  
A good line to share: The Regimen Reboot by Plant Apothecary, a fresh brand on our radar.  It is certified organic venture with super-powered botanical ingredients that makes plant-based skincare.
Night 
Recently discovered, gender-neutral beauty brand: Gruum. So if everything else fails, this can be the go-to for low key, laid back introduction to the magical kingdom of self care.  
Some of our men loved the exfoliating face wash and so have we. We have also included the facial tonic on our wish list, a miniature darling with sleek design and no chemical nasties.
What is on your partner's shelf these days? Spill.
By Masha Nova