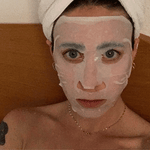 Masks Espressoh Team Swears By
Now that a  simple facial appointment seems like an extraordinarily dream, we are diving further into our skincare routines and sharing simple joys with our digital Oh.Bar visitors (Grabbed your coffee? Good).
On today's agenda: our favourite masks that actually work. Simple guideline before you pick your dearest: if its clay avoid letting the mask completely dry out; if its a peel off - take your time and don't pull too hard whilst removing; creamy overnight potions - don't let your skin suffocate, use in moderation. Follow up on your products' instruction and remember: if you run out, you can always D.I.Y.
I often use The Ordinary Salicylic Acid 2% Masque; the ingredients include vegetable charcoal and Amazonian clays. Be careful if you have sensitive skin and of course use additional sun protection on the days you exfoliate with this one.
My quick go-to is Don't Worry Healing Mask from Package, it's a Korean cosmetics brand, and the mood is right on point. Another good one is Poretox Fruit Soda Bubble Mask, its quirky and smells delicious.   
Left to right:
So I'm not a sheet mask girl because I don't enjoy the cold and wet feeling on my face and having to be practically inactive for the whole duration of it. The two masks I like the most are Glycolic Peel by Caudalie (gives you radiant skin in 10 minutes) - I use it a couple of times per week during my morning routine - and Original Skin, which is a retexurizing mask with rose clay by Origins - I use it 1-2 times per week and the skin feels very purified afterwards.
But my most favourite mask is Drink Up Intensive overnight hydrating mask with avocado and glacier water, again by Origins. I apply it on my face before sleep and just forget about it. Easiest thing ever! I also like to carry the mini-version for travels and to use it on the plane as an intense moisturiser. In usual life I use it 2-3 times per week, it's especially nice to apply before sleep when you come home from a party. It's completely invisible and transparent so it does not leave any marks on your bedding and it's guest-friendly.
Content Creator
One of my favourite face masks is Green Tea Purifying Clay Mask from skin79. It's great for oily skin and really draws out the impurities. It has small exfoliating beads so do be gentle if you get to try it.
Also, I would definitely recommend AHA 30% + BHA 2% Peeling Solution from The Ordinary. It has a strong team of acids (glycolic, lactic, tartaric and citric!) that will do wonders to your skin.
These days I am vibing with the Don't Worry sheet mask by Package, now more than ever. 
Left to right:
I have been repurchasing Madara Cosmetics'  Smart Charcoal & Mud Mask a few times now. It helps when skin is acting up and the complexion needs general purifying. The ingredients include black northern mud, B3 and 17(!) amino acids and essential minerals. The brand is vegan and eco certified if you are trying to clean up your shelfie and go organic.
My recent discovery that I simply cannot keep to myself is Clinique Acne Solutions. This is great when break outs are severe and if you have oily skin (avoid eye area and leave it no more that for 5 minutes as it says on the package). 
Left to right: