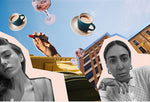 It's The Little Things. Scenes in Milan We Are Looking Forward To
Self isolation came with a train of possessions : reflection on our collective ego, becoming proficient in following elaborated make up tutorials and frequent reminiscing. The reminiscing, especially, hit profoundly. We have caught ourselves being nostalgic for the simple, little things that can only be felt in Milan. Here is the full list of places you most likely to bump into Chiara, the founder of Espressoh, and OhBar contributor Masha.
IG Worthy Coffee Set Ups (and Brioche That Actually Tastes Good)
Chiara: I like pasticceria Gelsomina to get my favourite salty brioche with prosciutto crudo and confit de figues. Name another place that has photogenic floors along with the IG worthy table set up.
Masha: Here is a hidden gem for you, where the light will definitely make the picture no matter what you order: Panificio Davide Longoni. A cosy garden, freshly baked bread and surprisingly nice staff (a scarce act in Milan).  

Betting on Lemon-a-Me Resistance and Win
 Chiara: Try Vineria Eretica: natural wine is the way when you hit your 30s. As long as your lipstick stays intact (even after a few glasses).
Masha: I love Gauche Caviar, a cherished spot for me! A quiet and stylish location with a Great Gatsby mood. A perfect place to put to test any espressoh lipstick with a glass of champagne and a lover.
.     
Taking The Best Bathroom Selfie
Chiara: Casa Matilda's interior is super quirky and the bathroom is no exception (our team is particularly fond of the wallpaper). Not to mention that a balance between contemporary aesthetics with a delicious menu is not that easy to find.
Masha: You have most likely caught an influencer or two, strutting a laid back pose in front of a dark leafy background decorated with white flowers. Location: Saigon Milan (you are welcome), populated with precious birds during fashion week and a gold mirror worth a picture in the bathroom.
.      
People Watching
Chiara: For me its a spot like STRAF. Tourists quite often miss it, as it is on the quieter side of Rinascente (and if they do go, they try to blend in). Witness a diverse crowd whilst sipping on Aperol Spritz and if you are lucky, you will catch a good DJ performing live (but I wouldn't bet on it).
Masha: You can find the rarest flock at the LuBar, for the most part during fashion week. Book your table in advance (preferably outside), skip lunch (getting an avocado toast is so passe) and sip your Espresso Martini while eavesdropping on some of the latest tea.
.     
Testing Teary Giggles on Intenso Mascara
Chiara: Making a stop at Taschen in Via Meravigli to make fun of some books (or cry at some, depends on the mood), before heading to Gelato Libre for coffee flavoured ice cream and a blush pink backdrop.
 Masha: Get high on sugar at Zàini Milano right after forcing Chiara to take pictures of me in front of a tram and die laughing from embarrassment. Things as a foreigner I just must do.
 Any secret spots we might catch you at ? Spill.