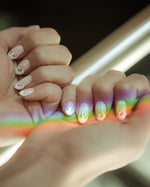 Top Rated Nail Salons We Want You To Try
 (pic @unghiedellamadonna )
With the help of our diverse community, we have put together a guide of sort: locations we have tried and other spots our OhBar readers know. Simply because there are more pictures in our saved folders of places to get our nails done then there are of pet memes.
Milan
Alright, this is not a 'top rated nail salon', but a young female entrepreneur whom we have trusted with our nails and will continue to support. Isabella Franchi, known as @unghiedellamadonna on IG, has a portfolio of non-tacky-to-pinterest-perfection projects who is also available for home services. Thank us later. 
Paris
Here is a place where you must have your phone battery on full, because you will make a blast on socials after your appointment (there are two locations in Paris, but do book in advance). Contemporary atmosphere and ultra graphic decor will certainly put you in a good mood. Special perks include: availability for low key personal events with beauty and a sparkly (birthdays, bridal parties and baby showers).
London
It is said to have an innovative approach when it comes to manicures and more (brows, hydro facials, microcurrents, botox, mesotherapy and peels can be also done here). You can book your visit online or contact straight from IG. Some of our London based ladies swear by it.
Riga
Every time we are in the city, we sure to make an appointment in advance. There are two locations at your disposal (both equally well designed and IG perfect) but the schedule is tight (and you will be black listed for not showing up). This is a place where we got linear, nude bodies painted (#GRLPWR) by a lady who did not even wince at the idea.
LA
Female founded brand with its own line of products and it looks like a dream: you sure to book a spot since there are three locations available (Beverly Hills, Pasadena, Santa Monica). The products are also carefully formulated, vegan and cruelty free. 
LA/Moscow
With over 2M followers on Instagram (with posts dominantly from Russian women), this franchise can be found from Moscow to Los Angeles (Beverly Hills). Once a week or so, the account let's their freak flag fly (and we like it) with some crazy designs, but for the rest: it is an eye candy for nail inspo. 
New York
Paint box nails have a minimalist feed with fantastic geometric design and boasts original, branded nail polish (the colors are so yummy). Since none of us are traveling over seas soon, we are learning some tricks through their DIY highlights instead.
By Masha Nova