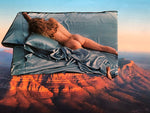 Our cultural obsession with buttocks in the past few decades is nothing new: from Jennifer Lopez in the aughts to infamous reality tv celebrities we somehow still follow on Instagram, knowing well enough that 'reality' is only a far cry from the honest truth. Implants or procedures like Brazilian Butt Lift , Xiaflex ( both are injections) and Cellfina (invasive treatment) seem a little overboard (although if you want to know more do tell), so we hit the yoga mat because the first few signs of past quarantine are starting to show (or is it simply ageing? Open to discuss).
We would like to believe that you cherish your curves (or lack thereof) and post your bikini photos with no guilt along with Toasted on your pouts. We also know all too well that a little effort goes a long way, so we have gathered some intel on how to plump our bums, from best scrubs for buttocks to body brushing benefits, no scary needles required.
Cellulite Wars
Thanks to body positivity and third wave of feminism, cellulite is being normalised (too slow for our liking but we will take it). It should have never been dubbed an 'issue' in the first place, but beauty industry needs to feed itself on predominantly female lack of self confidence border lining with perfectionism. Cellulite can be a signal to health conditions surely (excessive stagnation, water retention, inflammation in the body, poor microcirculation, hormonal imbalance etc.), so you should be keeping track of what is going on merely for the health reasons.
Almost every woman has cellulite (the rare unicorns that do not, please stand up), and there are a few categories it can be differentiated into to understand if yours requires treatment.
First category is Compact cellulite, which is slightly visible (or not visible at all if you lay down), can be seen well when the skin is pinched. If you do not fancy the looks of it, simple exercise (read active lifestyle) in addition to treatments can minimise the outlooks of it. We love cupping (silicone cups are a good start for beginners) along with a fine oil. Our personal discovery is the Bio-Oil (skincare Oil in pink), which visibly makes a difference and absorbs quick (other claims include improving the appearance of stretch marks and scars).
Second group is known as Soft (or Flaccid cellulite) which is more visible and becomes prominent with age. Causes can be anything from abnormal accumulation of fat in the area to genetics and lifestyle. Eliminate alcohol and sugar in your diet and get back into your squat game if you see this as an issue. LPG procedure can be also an option to consider. It can firm and smooth the body if you are looking for a quick fix. Minimum 3 sessions are required and be aware that the results do not last for long. It is an alternative to have in mind before a big holiday and we have tried it. In detail: a sleek suit will be given (Teletubby vibes so avoid the mirror) and the machinery will suck up your skin from head to toe with the help of aesthetician. Don't fret, it does not hurt. Lower back pain may occur as a side effect if the treatment provided is too rough.
Last category is the one you must pay attention to: Edematosa. This stage requires the right treatment assigned by your doctor. It is rare and the only cellulite that you should worry about (as it is often painful). 
Our Latest Finds
Even with all the knowledge about our bodies (eat well, exercise blah blah blah) , we still like the idea of a little help from the outside. And what is another jar as long as the packaging is recycled and makes us feel really good and hopeful?
Best scrub for buttocks so far is Fresh Brown Sugar Body Polish, declares to leave skin supple, healthy looking and exfoliated (we suggest using a loofah alongside it for extra microcirculation). Quick tip: look for ingredients like coffee, mint, black pepper and grapefruit essential oils to enhance the results. If you are ready to splurge Red Flower Lemon Coffee scrub is loaded with goodies like Arabic coffee, fresh lemon rind, sugar, grapefruit and sweet almond - if this is not going to leave your skin rejuvenated we don't know what will.   
Oils, creams and masks are another dive we are exploring, and we like them as multi tasking as we are. If on a budget go for a contouring concentrate like Caudalie that can be used all over. It is plant based and preservative free, and is applicable to all skin types. A little bit more luxurious (but also lasting) option is Ren's Moroccan Rose Firming cream with hyaluronic acid and camellia oil (cruelty free). If you are willing to pay an arm and a leg, African Botanics must sculpt the Goddess out of you for the money paid. Similar results can be achieved with Valmont, which is often used by professionals, so if you cannot afford these products just yet, look for the treatments which feature these at your local aesthetician.
Dry brushing is one of our favourite quick fixes to improve lymph or any stagnation (and the general skin outlook). These tools are affordable and do not require any additional creams or oils, just your time and vigour. Look for natural bristles and good grip : Legology or Dr Barbara Sturm, or something more popular like Aromatherapy Associates. All are somewhat in the same price range, but you can look even for cheaper brushes online. The whole procedure is very simple: start at your feet and brush upward toward the heart. Besides removing dead skin cells, body brushing benefits include blood circulation and reducing cellulite. Be gentle and commit for a while before expecting any results.
Is your peach ready?
By Masha Nova