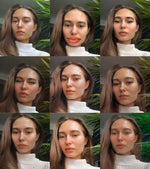 Real Life Instagram Face Filter
Real Life Filters
The process of unattainable beauty standard follows female psyche across centuries, through and through. Contingent on territories, from skin bleaching to breaking in half for corsets, we have almost made peace with all of it. At last it felt like so, when even the media seemed to be giving us a break. Humorously enough, the wicked was sneaking upon us from a front camera view, staring right back, doe-eyed, with some 'bae' filter in between.
Luminescent skin, sharp cheek bones, that could cut through instagram haters, vixen eyebrows, high and proud, a yummy pout and invisible nostrils. Bella meets cyborg Bratz doll with glitter, more or less. This is the look we have been witnessing online, wearing it in our instagram stories and catching our friends abusing it too. Can we avoid its swift attempt to walk into our real lives (and at an alarming speed at that)?
Selfie Dysmorphia
The term 'Snapchat Dysmorphia' was coined by a cosmetic doctor Tijion Esho, who could not foreseen the equal influence of Instagram stories (or the airbrushing app Facetune for that matter). For him, clients simply replaced a celebrity photo with their own, a snap of tuned up version of a selfie. Last year The Guardian has published a follow up article, boasting studies about our obsession with recording ourselves and which cosmetic invasions deemed most popular. The New Yorker journalist Jia Tolentino interviewed plastic surgeons to confirm her theory on the popular Instagram Face effect. During our research for this article, we came across this study from California State University San Bernardino, on social media filters and beauty perceptions among young women (and our feminist hearts were broken by the data).   
It is no longer the 'fixing of the inevitable', but a little tweak here and there, that gives a result of that slight perfection (and consequently the clone effect). Think taut jawlines (Volux), voluptuous lips (lip fillers like Juvederm or Restylane), or replacing a daunting option of rhinoplasty with a 'liquid nose job' (fancy nick name for another filler). Whether you are fixated on the flawless, poreless skin (non existent) or a thing as absurd as laugh lines (along with the frown lines, let the inevitable go), it is the inner content-with-yourself-no-matter-what that should be the judge.
Shaping our view of 'beauty' through slightly attainable (and more often unrealistic) filter lense can hit your self-esteem in multiple ways, from body dysmorphic disorder to depression. A little preventative botox as early as your late twenties and yummy fillers are gorgeous, but they are certainly not a fix-it-all pill for an emotional rollercoaster that could be your confidence.
The Clones
We all know the drill , @shitbloggerspost knows even better. The slightest attempt at originality picks up the hype at an inevitable speed, and what has been deemed 'unique' just this morning will be consumed in a content coma around this evening and forgotten the next day (or rated passé, if luckily still remembered).
To discuss our notion of copy-paste in the faces we see in our feeds, we reached out to Beauty Cloud editor-in-chief , Almaza Pirha, an expert on all things cosmetology and female health. Once we mentioned the correlation between Instagram (or Snapchat) filters and trends, we got ourselves a candid answer.
"Certainly when Instagram (read Facebook) has knocked off the idea of a Snapchat filter and implemented it, (the 'enhancing' filter being the most popular) we saw the dominance of clones.", she writes via e-mail.  Although Almaza is pro-natural beauty and draws attention to female health from within in her personal blog, she could not help but fall for the beast too. "I am not an exception. I have once sent out a filtered Snapchat photo to my cosmetologist where you could see the prominent lips, along with my comment: Instead of refusing my request, this is what you should have done." Almaza mentions the accelerated criticism towards 'photoshopped' faces, "we were taught this in makeup too, think about contouring, strobing, etc.". Almaza concludes a tendency to replicate is moving towards another direction, "now we observe an opposed trend, to be DIFFERENT. If earlier technologies allowed us to look better, now it allows us to be incompatible. Very often this border lines with what society considers 'freaky'. With that said, I am a little sorry that we are losing touch with beauty."
Algorithm vs Reality
Whatever inner dragons you might be tempting whilst scrolling through a rabbit hole (explore page that is), most choices are made at a cosmetologist office. And although it may seem that everyone had their eyebrows winged with a thread lift, the reality varies to an individual. We spoke to a London based certified cosmetologist, Eliiza Ridvanska, to feed our curiosity on the procedures that are regarded as popular.  
"The fashion for 'naturalness' in aesthetics is growing every year, while almost the entire beauty industry is working on the creation of devices and injection techniques without long rehabilitation in order to achieve this "natural beauty". All non-invasive cosmetology is now moving forward, but oxygen therapy and SMAS lifting, as well as manual massage, are still the trend." Eliiza also confirmed that plenty of her younger clientele (before 30) often come with a picture of an influencer.
Naturally the algorithm dictates the highly admired images (videos) we cherish. We would like to believe that non-filtered selfies do get the most love, but so do the ones that influence the daunting pressure to conform. Often race and ethnicity can not be put into a box of idealised standard, and so we are looking forward to seeing less filters and more unconventional beauty (among our deviant OhBar readers at the very least). 
By Masha Nova