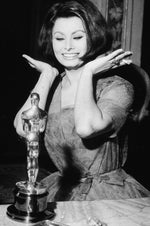 Team Espressoh Talks All Things Oscars
If you haven't caught up with the Academy Awards, no need to worry, there are no spoilers here. Our team was initially excited about the red carpet appearances more than anything else. See the comments below for our favourites picks!
To say the least… B O R I N G. This year was hard to pin point anyone in particular (especially considering that Zoe Kravitz was not present!). Margaret Qualley caught my eye, whom stayed classy in this (a bit) tacky defileé. I appreciate the combo of a timeless Chanel dress and super fresh make up (is she wearing Glassy btw? ). Also, I am big fan of braids.
I have expected a little bit more diversity on the red carpet and niche, young designers to nail the big stars. My favourite look was worn by Lily Aldridge, and since I love following her fashion and make up outings on Instagram I cannot judge clearly. LOVE HER! She went for a simple white Ralph Lauren dress with a red flower detail on the waist, as accessories adorned with Bulgari jewels of course. Her hair was stirred by Laura Polko and make up by Carolina Gonzales (Lais Ribeiro and Olivia Culpo among her other clients).
My favourite appearance has to be Billie Ellish, because her look is simple and seems  comfortable. It might be oversize but at the same time… just wow. The make up is perfect and very natural. That way there is more space for her two-toned green and black hair and the bejewelled, signature nails. Billie strutted a total Chanel look.
 I preferred the cascading look from Scarlett Johanson. This one is unexpected ! Not only never did I indulge into the Scarlett Johnson obsession, I also was not ready to see Oscar de la Renta do a golden age Hollywood glam. The fit is perfect, and so is the cooler take on champagne color.
 But the make up style that won my heart is that of Janelle Monae! An outfit that commands this much attention while also covering much of Janelles body requires a flawlessly fitting beauty look, and, boy, does she deliver. Also, this red shade reminds me of espresso's aroma Rossoh !
Let us know your fav in the comments below - that's what gossiping is really about!