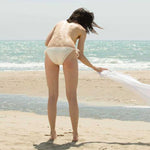 Planet-friendly Sunscreens (In Hopes We Make It To The Beach)
Title image - courtesy of @duniaalgeriatelier
If you are a frequent OhBar goer, you might still remember sipping morning coffee with us as we have broken sunscreen to you in a crush course last year. If your memory fails (same here), we diligently explained the UVA & UVB rays (in short, UVA reaches the Earth surface throughout the year, and consequently the deeper dermal layers of your epidermis. UVB lights peak during summer and is the one making you red, penetrating upper skin layers) and why that extra tan may age you (UV light in general causes damage to skin cells, including the break of the sacred collagen).
Sunscreen vs Planet
What we have failed to look into, is how sunscreen has been affecting our planet, because let's be honest, as consumers we rarely go beyond the desirable number of protection on the bottle. Many are not aware but marine environment suffers immensely from chemicals often present in sunscreen (oxybenzone and octinoxate); from coral bleaching to coral death. While coral can recover, the bleaching occurs every year which makes it almost impossible to recuperate. Other marine life heavily relies on the ecosystem for survival.
Always Opt for Mineral
Active ingredients in the formulas range from chemical to mineral filters (mineral are often marked so). Lightweight options are best to layer before your make up routine and for oily skin (make sure to have it settle before layering any other products, that way the formula can create a protective film). Squalane + Zinc Sheer Mineral Sunscreen by Biossance (SPF 30) hydrates sensitive skin and leaves no white cast (a rare treat). Madara's Plant Stem Sunscreen (SPF 30) is in the same price range and is suitable for mature skin (eco cert certified).
Summer
Raising the broad spectrum protection is advised during sunnier months (spring and summer, depending on your location). If you are an active summer lover (meaning sports and such) look out for water and sweat resistance mark ups (unfortunately not all sunscreens are created equal). Salt & Stone Sunscreen Lotion (SPF 50) promises a non-greasy formula, water resistance and boasts hyaluronic acid among other yummy ingredients (rosehip and avocado oil included). Another clean brand you are sure to find a mineral match from is Supergoop!; we are eyeing the sweat and water resistant option (SPF 50 of course) with sunflower and rosemary extracts.
Extra
Of course we are always on the lookout for one product beats all, and we will not yield our weapons of choice (Google) until it is found. Recent discovery: W3LL People Bio Tint (SPF 30) claims to boost collagen, correct imperfections and brighten (there are not that many shades to choose from, hence something had to give). Juice Beauty carries  a Mineral Sunscreen that is also a BB cream, a moisturizing magical wand of sort. It is reef safe, vegan and promises to battle the premature signs of ageing with the help of organic ingredients (like plenty of other SPF does). You can always compare your sunscreens thanks to open sources like EWG where all the ingredients are listed (and rated). 
What is your sunscreen (ready to be splattered and abused)? Spill.
By Masha Nova