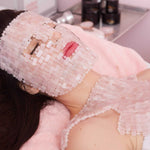 From Our Saved Folder: Holistic Facialists
At the OhBar we have diligently participated in almost every skincare hype that would promise to bring us one bit closer to dream complexion. Whether it is a jade roller potential ability of decreasing inflammation, or a wizardry dust supplement we are downing with a water bottle (with a quartz crystal in it), we are all for it.
We commit to a skincare regiment, we try miserable diets with no cheese in them (it was not at all that dramatic, but still), and here we are, yet on another search for a magical solution. One of these dubbed 'research' binge-scrolling black outs on Instagram, we have noticed that the most curious posts have been from practitioners with an alternative take when it comes to treatments.
If you happen to book yourself a facial with a 'holistic' approach, it could mean anything: from an alternative beauty practice followed by an energy healing session to Gua Sha whilst sage burning. In Milan, these practices are a rare treat, so we spoke to Emma Goodman (@emma.skinworship on Instagram), a Los Angeles based Holistic Esthetician, Health and certified Reiki coach.
"I believe my practice is different because I integrate a (whole-fistic) approach, looking from the inside-out to combat skin issues. We work together as a team with nutrition, food sensitivities, self-care, energy work (chakra balancing), and topical skincare", describes Emma. 
Holistic treatments may vary from one esthetician to another. We had a quick chat with Allison Marks (@alli.marks on Instagram), an education manager at Murad Skincare, licensed holistic esthetician and skin expert to learn more. "I approach treating the skin beyond what's applied to the skin topically. Diet, Sleep, Stress and Exercise are a few examples of areas I discuss with my clients. Their overall lifestyle gives deeper insight into how we can address their concerns and meet their skincare goals'", Allison says.  
So, what does an actual appointment feels like? Emma Goodman's most common facial is The Skin Sorcery which includes Gua Sha for lymphatic drainage, intentionally selected crystal therapy, guided meditation, oxygen, LED light therapy and facial reflexology. 
From our personal experiences, common misstep when it comes to general skin health, the issues are only looked through the prism of one problem (let's say cystic pimples) and infrequently the big picture is missing (Is it hormonal? Stress? Gut health? Wrong products used all together?). We have asked Emma what are the average concerns that her clients are faced with (literally).  
"The most common skin issues that I see here in Los Angeles are sensitivity and acne. I believe people are doing too much to their skin. They are using too many skin products from many different lines that may not work well together. Not all ingredients love each other. Clients are over exfoliating, using retinoids, doing laser and compromising their skin's barrier. We already have a great deal of pollution in the air that is creating damage to the skin. And then they are using comedogenic makeup and ingredients with harsh chemicals and fillers that damage", says Emma.  
Our team often discusses acne, whether talking skin positivity or complaining how we no longer feel like seeing teenage-looking break outs staring back at us in the mirror.
Emma clarifies: "With acne, our hormones are also being effected by androgens in our air from chemicals, perfumes, etc. Many clients have been on birth control or harsher drugs for their acne. This can upset the hormones. Food and stress are big causes for inflammation, which in turn pushes out toxins through our largest organ, the skin."
If prevention is your final goal, with a holistic approach the treatments do appear more relaxing and less painful. "The most common problems I am approached with are how to slow the decline of the skin and what products are best to treat aging", adds Allison. "The most popular treatment is gentle, yet effective exfoliation, followed by oxygen, spray LED and a Gua Sha facial lifting massage". We are all in for Gua Sha!
If you are at the beginning of your journey and curious about your health (especially in connection to that dewy glow), we have been eyeing alternative healers for some time now. From our saved folder to yours: with Jen at @minimalbeauty, you get to catch a glimpse of what TLC is like (massage therapy) and skin prompts here and there (we personally loved this face map).
Candace Marino (best known as @thelafacialist), develops custom complexion protocols and often shares her favourite products (but we are there to look at before and after shots to be honest).
Any alternative fairies in your feed? Spill.
By Masha Nova