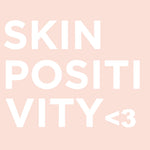 We project the little glimpses of ourselves, carefully curated fractions; they are no longer the puppy faces or the silly photos by the beach. They are filtered "busy" selfies; "moody", almost "candid" videos of what our lives might look like to a stranger.
The question is: how filtered are you?
Skin positivity has stirred a mass feedback (dominantly positive, at least in our feeds), where mostly young women could no longer take the digital vs reality. Just take a look at Sofia Grahn, known by the Instagram tag @isotretinoinwiths, who bravely shares her journey with acne to further the discussion. The self proclaimed 'acne advocate' speaks openly how any skin condition is not something to blame yourself for and touches upon mental health in many of her posts. 
Let's face it (literally): we all have bad skin days, most of us have acne, and soon enough more of us will have wrinkles. We desperately self-care to bring out the glow, but sometimes (or often), there is no cure for that one little devil on your chin that manifested itself due to the lack of sleep, content digital coma, pizza (pasta, dairy, cheese, wine, insert your own) and stress. And so you slap another filter, smile, and get on with your life. Or do you?
"As I've got older I've stopped caring so much. My content is heavily skincare-focused so nearly always requires me to bare all on camera. I used to get nervous about showing my skin if I was mid-breakout, but I always get such positive feedback, especially from other acne sufferers. It's great to know what products to use to prevent and treat spots, but it's even better to know that you're not alone in your experience."
A little unknown fact: suffering from any skin problems can alter the self image, cause anxiety, stress or ability to communicate with others. To have healthy, glowing skin has become almost the eponymous of success (You don't make time for yourself because of several projects, rent, part time jobs and your own start-up? Loser).
"There is so much pressure to appear a certain way, and have a certain level of 'good skin'. Sometimes, this pressure comes from ourselves based on the image we see throughout social media, print, movies, and TV. Other times, it comes from the 'experts' of the field, boasting about how products will give you flawless results or perfected skin. It has become increasingly alarming, especially for younger women, the way they anticipate their image to be perceived."
- Christina Kassi /@christina.kassi/
Ladies like Kali, known as @myfacestory, have been trying to bring the issue into the light , and show, that skin is skin, and just like with bodies, we all have it differently. Kali draws attention to how hard it may get when your skin looks out of the ordinary, speaking about her past insecurities and mental well-being, and we hooray her for that.
"I don't feel the pressure to look flawless that much like I once used to do when I was younger.
Social media are definitely creating a pool of pictures of women who look always their best, creating standards that are often unnatural and hard to achieve naturally. 
This being said, it's true that there's also a bit of a revolution happening, with people trying to embrace themselves naturally, showing their flaws on the internet, that's where I'm trying to stand."
- Greta Langianni /@gretafutura/
Hype comes and goes, but how much more fun would it be if we let the rains go? Just wear a swoosh of red for the kick of it (and to the heck with that chin devil of ours). Just mascara and no concealer? Rebellious ! A little bit of flushed glow and no tint on the lips? Daring! Or is it?
"Few years ago I wouldn't dare to leave my house without makeup even if I was to go to the post office. Now I do leave my house with bare face with no makeup on (just a little brow gel and mascara - sometimes concealer when I do get an odd breakout). I do encourage people to feel good in their skin by wearing their own natural beauty. Makeup products are made for us to elevate our confidence not give us the confidence that we already have in ourselves."
- Klaudia Kedziola @klaudiacloud
IG (and now Tik Tok) generation does not play by the rules. We might get the most out of this hype, but we will not let it dissolve in the waves of other things new. How? Let's start with ourselves.
No filter selfie anyone? I'll post it if you do.
By Masha Nova