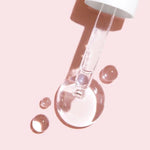 Glycolic Peels: professional vs at home
October is upon us, which means we are definitely receiving less of sunny days and a tube of 50 spf sunscreen is going back into medicinal cabinet (*cries loudly whilst cleaning*). On the other hand, fall is a perfect season to bring yourself into the cosmetologist office and finish whatever journey you were on before summer.
Naturally, acid peels are a perfect start, to rejuvenate and clean up the skin after the holidays and from the mild stress unleashed by September thereafter. Chemical exfoliants like salicylic acids and retinoids have been in a line of hype ingredients but the true queen of alpha hydroxy family is glycol.  
Glycolic peels are gentle and effective immediately, giving a pristine result that no physical exfoliation can possibly achieve (we are obviously fans). Benefits include the visible reduction of fine lines, acne and discolouration. It works by dissolving the glue between the dead cells in the upper layer of epidermis, and has constant, specific strength. Standardly, cosmetologists tweak the glycol acid percentage according to your skin type and final goal (the concentration can range from 1-20%). The outcome is smooth, pimple free, glorious glow.
We have done the best glycolic peels both at a dermatologist office and even attempted to do one at home, sneak peak for our experiences below (please investigate responsibly and consult with your GP before trying out a new product). 
Masha
contributor
sees a professional, hopes for a miracle
I am a devoted glycol peel enthusiast: I usually try to get one every other month or so. I have oily skin and often hormonal break outs occur for which only this treatment has been convenient (although I also hear cortisone shots are a thing for cystic acne, so if anyone tried I must know).
Depending on how bad (or really bad) my skin is flaring up, my dermatologist adjusts the percentage of glycol. Based on the strength of the treatment, the process might sting and the skin gets red and peels in flakes after (sometimes for up to a week). This is why it is crucial to trust your chosen professional and make your needs very clear. Avoid getting a glycol peel before big events (or make your booking at least two-three weeks in advance). No sun exposure, due to the skin being at its most vulnerable during the healing process (don't be shy with sunscreen otherwise pigmentation will surface almost instantly). 
I am also very open to premixed 'cocktails' that address my specific concerns, this can be anything from lactic and salycic acids to a drop of vitamin C. Throw it all in.
Marika
content creator
does a glycolic peel at home, has no fear   
I am very big on mimicking professional facials at home, although I understand that it is not for everyone and you must be very careful when you navigate similar processes on your own.
Glycolic peel at 50% is a strong concentration for the skin and so I have used it after consulting with my esthetician. After carefully applying, I had to time 10 minutes and remove it immediately with baking soda. It can also be layered where the skin is more textured. I was very cautious whilst doing it and I would not recommend experimenting unless you have spoken to your dermatologist prior.
If you feel like going for a professional peel is not quite right for you, The Ordinary aha + bha is a similar substitute. The product is very easy to use. It also contains bha (2% salycilic acid) which is great to fight acne. This one helps me to maintain clearer and brighter skin.
By Masha Nova and Marika Zaramella