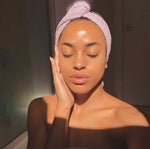 What is HydraFacial: everything you need to know
As life in Milan awakens slowly, we are assembling our to do lists: navigating tan lines (check), delightfully accepting aperetivo invitations (check) and cherishing beauty appointments (HydraFacial check). Our team member Marika has tried one recently, so we could have all the insights we need.
What is a HydraFacial treatment?
Hydrofacial is one of the Hydradermabrasion procedures that are not painful and deliver the result immediately. It is rare for the skin to react unexpectedly to the procedure and it is a perfect substitute to invasive exfoliations or chemical peels that are not recommended when the sunnier months are around. This is your go-to if your skin slightly gets out of hand (impurities, uneven texture) or it is acting dry, and topical nourishment is not going to cut through. 
Marika: The treatment lasts about half an hour and consists of 3 steps. Firstly, it is gentle cleansing + peeling to uncover a new layer of skin (serum based on glycolic does that). This follows by extraction + hydration, which feels like the tube is sucking out all the goodies from my pores (which it was, with a vacuum tool) and hyaluronic acid serum is used. Last part is fuse + protect, antioxidants and peptides are applied to acquire that baby skin glow. The treatment was finished  with a sheet mask and a vitamin E cream.   
Why everyone is obsessed?
The device is practically at every salon and if you are new to beauty regiments, this one has zero scares. The gentle cleansing and exfoliating is almost harmless, and the serums are strong. It is alluring to every age group, and the result does not depend on the fairy in charge or her competence. The feel is massage-like, with vortex pressure and a clog-purging solution of acids.
Marika: Everything is done with the same machine, only the nozzles are changed at each step, and every act has almost the same "skin feel". I must say that the treatment is not at all annoying or painful, only a slight temporary redness occurred with me. The shocking thing is that at the end of it I was shown what has been "sucked" away from my skin, and it is truly incredible (and disgusting I dare say).   
Should I get one?
If you are over fancy facials that can only do so much, but still cannot get yourself to try a peel/laser/mesotherapy/insert your own, the benefits of HyrdaFacial are the golden middle. You can also add up the boosters at extra price to really target a specific issue - from sun damage to early signs of ageing. It is known to be popular before red carpets and wedding events as it has little to no side effects.
Marika: My skin was visibly more luminous and super dewy right after the treatment and for the following week I could keep up the hydration effect with the proper skincare regiment. In my opinion, that it is quiet expensive (about 150€) and of course the result is instant, but unfortunately not particularly long lasting. The recommendations were to continue the sessions once (or twice) a month to see greater benefits. I think it is a lovely option before big occasions, and if the price didn't bite this much I would give it a try in the long run.
By Masha Nova and Marika Zaramella