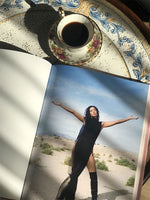 From Our Saved Folder To Yours
Let's be honest : autumn 2020 is the last chance for this year to redeem itself. Our team is never the one for whining, and so we keep on hoping to end this fall with a positive outlook. To help you do the same, we came up with a new guide to drop every season: From Our Saved Folder To Yours. These are our personal obsessions and discoveries we no longer can retain to ourselves. In this edition learn that natural wine is the new, hip conversation starter; discover where to buy art, and count just enough reasons to put a bold lip on and log off your phone after reading.
Natural Wine
New wellness hype (we are convinced we have started ourselves) is being an expert in all things grape. We are now looking for natural wines that do not feature things like flavour manipulators, additives, colouring agents or stabilisers. Certainly this type of interest requires a little more hypocrisy, since this sort of thing is a new territory in labelling for the food industry. We suggest slight scrupulousness when it comes to your grocery cart for another girls night in. Look for local producers that responsibly grow grapes without the practice of spraying pesticides. Trust the vintners that do not use potentially toxic ingredients in the process.
To start your organic sommelier journey, hit places like Enoteca Naturale. This location hosts only natural wines and has an extensive list so you will not be deprived of choices (tables outside is a plus). For a bohemian aesthetic (read IG perfect atmosphere) check out O|nest, with a substantial wine list and a little bit more choice of food. 
Besides, with no sulfites , you can go on and drink a bottle (or two) with your friends, and the next morning you will not suffer a the nasty 'over 24yo' hangover (true story). 
In our saved folder: Pipette Magazine
Art From Living Artists
Starting your own art collection can be daunting and pricey, questions from 'where to buy art' to 'can I trust this website' rise before our attention spam can even bare it to handle. Sure spicing up your home with a candle is cool (we suggest @oremicandles ) but besides having photographs of your pet framed, nothing screams more 'I am adulting just right' than an art piece which resonates with your personality.
We have been looking into female artists that do not have a big following per se or boast a fancy agent or a gallery to back them up, but are thriving nevertheless. They disrupt the art world by challenging the idea of the industry, ignoring the rules of the dominant art structures all together. These are the ladies that open their own e-commerce shops, sell art prints and original artworks via social media, drop merch and interior pieces, all in all having a lively and different approach to their work.
To kick off your research scan RedBubble, a print on demand online market place based on artwork submitted by independent creatives. Depending on your budget you can choose from posters to wall art (or look into unique home decor pieces). 
In our saved folder: For a good art print quality we can vouch for Society 6, a similar platform for artists-designed products (wall art, apparel, home decor etc.).
Airplane Mode
If you haven't stumbled upon Social Dilemma screen grab in your Instagram stories (how ironic), you have been on airplane mode and we are jealous.
After our holidays in the most precious Italian locations where a three bar signal is a rare luxury, we somehow forgot to turn our notifications back on. We suggest you do the same.
In our saved folder: Irrestible by Adam Alter