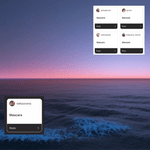 Summer Night Out: Must HaveProducts from OhBar readers
We have asked YOU, our lovely readers and frequent OhBar visitors, about summer must haves for sizzling nights out. Besides the Prosecco for glow and Aroma Addiction for a cherry, tinted lip, we have gathered quite an intel via @espressoh_ IG and we are excited to share it.
Eye Lash Craze
Mascara was a champion among your beauty necessities. When strappy sandals are finally out of the closets and we all start complaining about the Italian heat, Intenso keeps it cool and steady for plenty of you. If you are still on the look out, this is the one. 
We became curious for more ways to multiply the outcome and have our lashes the ability to attract adventures. Minus the castor oil, the skincare market is booming with eye lash serums.
If you are intrigued just as we are, tap into the affordable price range first. No7 Lash Impact Lash Serum can be purchased at Boots, Target or Amazon and promises longer and fuller lashes (the wait to see the results is a couple of months). If you are willing to commit, we have discovered some products in the higher price range category. Vichy's LiftActiv Serum 10: boasts hyaluronic acid and ceramides - the lipids, or fats, found naturally in the uppermost layers of the skin, which if well formulated will reinforce skin's barrier. You can also multitask with Shiseido's Full Lash and Brow Serum, which promises fuller and healthier prospects for both. But the one on our radar is KUSH Growhouse Lash + Brow from Milk Makeup, with cannabis seed extract and plant peptides.   
Hair Care
Hair care gathered one of the largest response, so you got us hooked on the new products we want to try right there and then. Most of you are enthusiastic about Monoi oil, which captivated our team. Besides being hypoallergenic and noncomedogenic (often hair products can cause break outs), the oil reduces split ends and frizz, and helps the hair grow stronger. There are some natural, cold pressed options that can be easily found on Amazon, like the one from Aromatika or Botanical Beauty. We are wish listing the Monoi Milk Leave-in conditioner from Playa, a female-led Californian brand. You can find their range of products at Cult Beauty if you are based in Europe.
Monoi or not, turned out that Hair Oils are your big summer must haves, ranging from anything found in the kitchen to elaborate formulas. Briogeo's B.Well castor oil caught our eye, rich in omega fatty acids, it promises to nourish and repair the damage done. Another affordable option (also good looking and boasts great reviews) is the Shea Oil by The Inkey List (we are curious about the Hyaluronic Acid Treatment for hair from the same brand).  
Vibrant Glow
The runner ups of your choice were products with luminous touch. Espressoh ladies opt for a healthy glow and do not shy away from a little blush. While most of you are very fond of Glassy, we are thrilled to see the response on our waiting list for the rest of you to try.
Other picks from the pool of answers include Laura Mercier's tinted moisturiser : the capacity of giving a radiant complexion and added protection of SPF20 sounds flawless (can be mixed with foundation). On top of that, we would throw our personal summer must have : Sunshine Drops from Drunk Elephant, which we diligently use to fake the look of endless hours spent at the beach (not yet). 
By Masha Nova